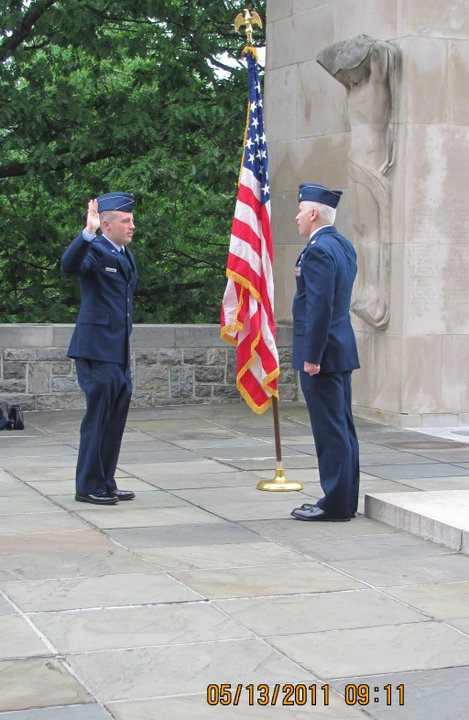 Arlington 22 March 2013

Sean's Obituary in Hampton Roads, Virginia Daily Press 1 August 2012
Sean V. HEATHERMAN Sr.

Obituary
YORKTOWN - Sean V. Heatherman Sr., Lt. Col. USAF (RET), 51, passed away Monday, July 30, 2012.
He was born in Santa Anna, Calif., and was one of 11 children born to Martin and Rita Heatherman. He lived in various places around the U.S., having grown up in a military family, and had currently lived in Yorktown for the past 10 years.
Sean graduated from the USAF Academy in 1983 and retired as a Lt. Col. in 2004. During his career he was a fighter pilot and flew F16s. Sean enjoyed flying and was a lifetime athlete.
He was preceded in death by his mother, Rita; and brother, Martin Jr.
Survivors include his wife of 27 years, Emma Denise Heatherman; daughter, Kristin Chapman and husband, Austin; two sons, Kelly C. Heatherman, TSgt., USAF, Sean V. Heatherman Jr., 2nd Lt., USAF; his father, Martin Heatherman Sr.; two grandchildren

, and the following brothers and sisters:
J

ames Heatherman, Timothy Heatherman, LCol Patrick Heatherman, USAF (retired), Col Kelly Heatherman USMC, LCol

.

Brian Heatherman USMC, Maj Brindan Heatherman USMC, LCol Margaret
Heatherman Kageleiry US Army, Mary
Heatherman Fuller, and Nancy
Heatherman.
The family will receive friends Thursday, Aug. 2, at 1 p.m. at Our Lady of Mount Carmel Church, followed by a mass at 2 p.m.
Per Sean's request please no flowers. Memorial contributions may be made to The Democratic National Committee.
Peninsula Funeral Home is in charge of arrangements.
View and post condolences on our online guestbook at
dailypress.com/guestbooks

.
Published in Daily Press from August 1 to August 2, 2012
Guest Book Entries
August 23, 2012
Sean was a Big part of our Family. It's hard to believe that he is gone from us now. We Loved him very much.
God Bless his Family. Annie Heatherman Thompson
~ Annie Heatherman Thompson, St Petersburg, Florida
August 19, 2012
To the entire Heatherman clan:
We are so grateful to have been able to spend time with your family throughout the years, for in meeting you we were able to witness one of the strongest and most beautiful families imaginable. Our hearts and prayers are with all of you. We know how proud you are of Sean, and his legacy will surely live on.
All the best,
Donna Fish and Ron Reed (Rich and Meg's son and daughter-in-law)
~ Donna Fish, Cortland, New York
August 13, 2012
A Child Loaned
"I'll lend you for a little time
A child of Mine." He said.
"For you to love the while he lives
And mourn for when he's dead.
It may be six or seven year
Or twenty-two or three
But will you, till I call him back
Take care of him for Me?
He'll bring his charms to gladden you
And should his stay be brief,
You'll have his lovely memories
As solace for your grief.
I cannot promise he will stay
Since all from Earth return,
But there are lessons taught down there
I want the child to learn.
I've looked this wide world over
In my search for teacher's true,
And from the throngs that crowd life's lanes,
I have selected you;
Now will you give him all your love,
Nor think the labour vain
Nor hate Me when I come to call
And take him back again?
I fancied that I heard them say,
"Dear Lord, They will be done,
For all the joy Thy child shall bring,
For the risk of grief we'll run.
We'll shelter him with tenderness,
We'll love him while we may,
And for the happiness we've known,
Forever grateful stay.
But should the angels call for him
Much sooner than we planned,
We'll brave the bitter grief that comes
And try to understand."
Denise, Sean, Kelly, Kristin and the Heatherman family,
Our thoughts and prayers are with you and we pray that God wraps His loving arms around you to comfort you. Our sincerest condolences to you and your family at the loss of such a wonderful husband, father and friend.
Much love and God Bless,
Judy and Phil, Philip, Brian, Bethany and Stacey Winslow
August 08, 2012
Denise, Sean, Kelly and Kristin and all the Heatherman Family,
I served proudly with Sean and our Daughters serve proudly with your next generation. Sean was a great American that we will sorely miss. I often talked with him in the "hood" as he rode his bike or drove by as I tried to contain my dog. He was SO PROUD of you all -- and his grandkids were very special to him. His trip to Florida with Denise was a highlight that we discussed not long ago. Our deepest sympathy to you Denise and the kids. We are just around the corner, if you ever need anything don't hesitate to ask. As a fighter pilot, I must add: "High Flight"
Oh! I have slipped the surly bonds of Earth
And danced the skies on laughter-silvered wings;
Sunward I've climbed, and joined the tumbling mirth
of sun-split clouds, — and done a hundred things
You have not dreamed of — wheeled and soared and swung
High in the sunlit silence. Hov'ring there,
I've chased the shouting wind along, and flung
My eager craft through footless halls of air....

Up, up the long, delirious, burning blue
I've topped the wind-swept heights with easy grace.
Where never lark, or ever eagle flew –
And, while with silent, lifting mind I've trod
The high untrespassed sanctity of space,
Put out my hand, and touched the face of God.

Safe flight West Eddie, see you soon enough.
~ Clam and LeeAnn McNeil, Yorktown, Virginia
August 05, 2012
We shall miss you, Sean. God bless. Stacey Boyd
August 05, 2012
Denise,
So sorry for you lose and my heart-felt condolences to you and the entire Heatherman family. Eddie was a class act and someone I really looked up to over the years. My thoughts and prayers are with you.
Godspeed, Stoli
~ Stoli Nikolai, Kunsan
August 04, 2012
Denise,
Words cannot express Marci and my most sincere condolences. Eddie is a great friend and leader. The Misawa family, and friends from your other assignments are with you in this tough time.
Most sincerely, Sam and Marci
~ Sam Angelela, Yokota Air Base
August 04, 2012
Our condolences on your loss. Though I only had the honor of working with Sean for four years, I will always remember his enthusiasm and generosity towards all. Whether it was work, our "ops breakfasts," hockey games, or fantasy football, Sean would make us welcome and be genuinely interested in what was going on. A true gentleman in every sense of the word.
~ Al and Pat Berke, Singapore

August 03, 2012
Denise,
My sincere condolences. I will remember even more fondly our recent dinner together.
Sincerely,
Phil and Diana Davis

August 03, 2012
So sorry to hear about this Denise. I remember meeting Shawn at some of the Real Estate functions you attended when we were doing business. I remember thinking what a pleasant person he was to be around. My Prayers go out to you, your kids and family.
I see the boys followed in their Dads footsteps and that must have made him very proud. God bless.
~ Michael Gleason, Yorktown, Virginia
August 02, 2012
It's always sad to lose a classmate and patriot.

Cleared to FL500 and above...Godspeed!

Steve Wood
USAFA '83
August 02, 2012
My thoughts and prayers are with Seans family during these difficult times.May the love and memories you hold in your heart always sustain & comfort you. Sean was a quiet & kind leader and he will surely be missed by his TAPO family.
xo Tamica
~ Tamica Foye, Newport News, Virginia
August 02, 2012
We were truely sad to hear the news. Sean was my commander at Misawa and I enjoyed knowing and working for him, a great person. God bless him on his journey and I pray his family can make it through these difficult times. God now has one heck of a great fighter pilot!

John & Arlene McDonald
~ John McDonald, Misawa AB, Japan

August 01, 2012
It's with saddened hearts that we send our condolences to the Heatherman family. We have great memories from our time together at Misawa…late nights at the old O'Club then going to "Denny's" (Mokuteki) for breakfast on the way home, surfing off the Japanese coast, and great flying in Alaska, Singapore, and all over Japan, not-to-mention bowling and frequent lunches and dinners together. Denise, we pray for God's comfort for you and the family, and have faith in God's plan for all.

Blessings,
Creig & Terri Rice
San Antonio, Texas
August 01, 2012
Wild Weasel Leader,
We'll miss you. God speed to soar with eagles and falcons. Our thoughts and prayers are with your family.
Lt Col Jeremy & Monica Hutchins
August 01, 2012
Our thoughts and prayers go out to the Heatherman family. May God comfort you with fond memories of your time together. I knew Sean for only a few years but during that time gained great respect and admiration for him. Sean was easy to like and his positive nature brought out the best in the people surrounding him. I am grateful that I knew him and he will be missed by all.
~ Dwayne & Sherry Starnes, Vancouver, Washington

August 01, 2012
Dear Kristin and family - Our thoughts and love are with you during this challenging time. May you find comfort and peace in the joyous memories you hold in your hearts.
~ Jennifer and Jim Hamlin-Pona, St. Louis, Missouri
August 01, 2012
Denise, you and your family are in our thoughts and prayers. Sean was a mainstay in the JFCOM SJFHQ and everyone held him in the highest esteem. Please accept our most sincere condolences.
~ Bill Barns, Virginia Beach, Virginia
August 01, 2012
Kelly,Sean and family: As members of the Tabb HS family, so sorry to hear of your loss. In such a large world, my husband met your dad at a contract job overseas a few years ago, and your dad was so proud of you boys. Both got to talking and one thing led to the connection. Keeping you all in our thoughts and prayers. Lynn Kenneally and the THS Family
~ Lynn Kenneally, Tabb HS, Virginia
August 01, 2012
I served with Sean at Misawa AB, Japan. I so sorry to hear about his passing. Steve and I send our thoughts and prayers.
With our deepest sympathy, Claudia and Steve Foss
August 01, 2012
We spent two amazing years in Misawa with the Heatherman's...."Eddie" was the ops officer with the 14th fighter squadron and then moved over to be the OSS commander. I worked for Eddie and respected and loved his leadership style. He loved the Air Force and especially flying the F-16...and he was a great fighter pilot and very passionate about flying! He had a great heart and that spirit will always be with me and with anyone who he ever met. God bless you Eddie and family....I will miss you for now...but I look forward to seeing you again someday in God's love.
~ Pete Bird, Anacortes, Washington

August 01, 2012
Dear Denice, Kristin, and family,
Our thoughts and prayers are with you at this difficult time.
~ Carolyn and Sam Chapman, Reno, Nevada
August 01, 2012
Sure enjoyed our time flying F-16s together. Enjoy the flight west my friend.
~ JayBoy Pearsall
August 01, 2012
The world has lost a good man. Our deep condolences to Denise, Sean, Kelly and Kristin and all the Heathermans. We appreciated getting the opportunity to know Sean. We will try to pass a little bit of him on to Liam and Kaitlyn as they have possibly the biggest loss of all.

Love & Understanding, Priscilla Hamlin & Lynn Chapman
August 01, 2012
Denise,

You and your family are in my prayers during this difficult time.
~ Heather Forbes, Hampton, Virginia
August 01, 2012
I worked with Sean in Stan/Eval at ACC.
With our deepest Sympathy,
Craig and Debbie Blessing

August 01, 2012
I worked with Sean at TAPO and I am very sorry to Hear about his passing. Our thoughts and prayers are with your family.
James Boyer
~ James Boyer, Trinity, Florida
August 01, 2012
May the roads rise to meet you,
May the wind be at your back,
May the sun shine warm upon your face,
The rain fall soft upon your fields,
And, until we meet again,
May God hold you in the palm of His hand....
With deepest Sympathy,
Sean's cousin Valerie & David
Vermont

August 01, 2012
God bless and keep each of you in this time of sorrow. Sean was a wonderful person and will be missed greatly. Your family will remain in my prayers.
~ Terri Tew, Poquoson, Virginia